Founded in 1992 by Anjali Sukhia and Nalini Kaul, Cascade Enterprises was built on the need for a premium sourcing service that tailors itself to client specific needs. This has only been made possible through the decades, due to the combined effort of dedicated and passionate professionals who have years of sourcing and supply chain experience.
Cascade Enterprises prides itself in enabling leading global Apparel and Home Accessories brands with their strategic sourcing and manufacturing requirements.
As a new age sourcing organization, we commit to bring sustainability in our business process and supply chain. We understand the responsibility of conducting business in a fair and ethical environment. Our vision and focus is on sustainability, social responsibility and transparency of the supply chain.
We have a proven track record of 25+ years to deliver cost effective, fully integrated, design-to-manufacture solutions for ready to wear apparel and home textiles to renowned retail and e-commerce fashion brands globally.
We sample, source, plan, monitor and facilitate timely deliveries of high-quality goods that are ethically sourced.
Our approach is to collaborate directly with our customers on an aesthetic level to develop a focused understanding of their goals and their customer's expectations.
We employ innovative end-to-end solutions spanning creative sourcing, product development, quality assurance, logistics support and centralized communication, all streamlined for a smooth customer experience that give our clients a definitive edge in their markets.
The unique structure of our organization and client centered teams allow us to provide a premium service to all types of business volumes ranging from small boutiques to large organizations. Our systems are well geared to handle a wide bandwidth of SKUs and volumes, from boutique brands, chain stores to large-scale global e-retailers.
Our rigorous evaluation processes ensure that the vendors we work with, adhere to statutory regulations on ethical, sustainable, sociallyresponsible and fair labor practices.
We are headquartered in Noida, India, with branch offices in major Indian apparel hubs of Ludhiana and Tirupur.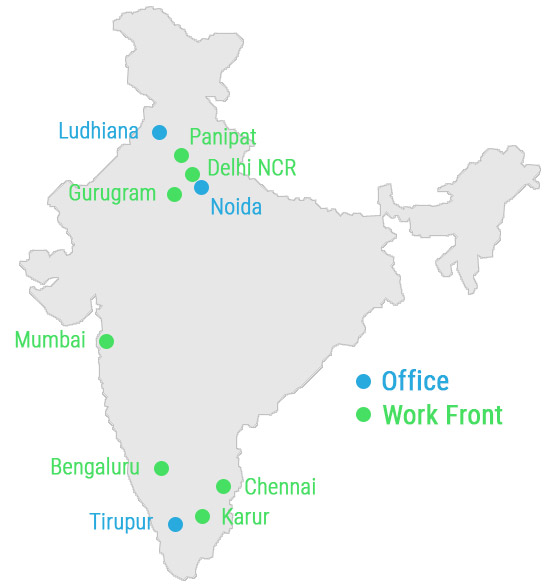 Dedicated and Passionate Team
|
Sustainable & Responsible Fashion at competitive prices
|
Compliant and Ethical Practices
|
Success and Target driven outlook
|
Ability to Cost re-engineer
|
Quick and Clear communication
|
Radical Operational Transparency
Woven
Blouses, Shirts, Pants, Evening & Casual Dresses, Skirts, Shirts,  Jumpsuits, etc
Jersey
T-shirts, Hoodies,  Polo, Sweatshirts, Dresses, Sleepwear, Innerwear
Flatknit
Pullovers, Cardigans, Troyers, Dresses, Jackets, Polos
Home Textiles
& Accessories
Design & Development Edge
Research and product development are the key areas of our services.
Our teams travel globally to international fairs and markets for trend research which inspires them to develop and source fabrics/yarns and fashion products for apparel and home. We have access to mills across India and China for sourcing fabrics and trims.
Process & Workflow Excellence
Efficient merchandising and process control are an integral part of our merchandising teams.
From interpretation of the designer's style until final production our merchandisers are involved in all aspects of the sourcing and supply chain.
Quality & Product Integrity
Our internal quality teams do audits as per AQL standards mandated by the client. All orders are inspected keeping strict quality checks at every stage. Periodic and random checks are conducted during the production process as well as during final packing and dispatch stage.
Let our team of experts assure your products get from the factory to your business or warehouse.
We work to ensure shipments and logistics deadlines are met with the best combination of time and economy to ensure a profitable business proposition for our customers.
Supply Chain Transparency
Complete factual reporting and transparency of process are our hallmark. Before entering into any commercial partnership, our vendor facilities and documentation are shared with our customers for informed decision making. During the production cycle, at any given stage, the lines are open to inspection both for quality and process audits.
We have long standing partnerships with our customers built over several years. We work closely with manufacturers, supply-chain and logistics ecosystem partners to deliver maximum value for our customers.
We care about who we are, what we do and how well we do it!
We care for our environment by ensuring to judiciously use our scarce resources efficiently and reduce wastage in every walk of our life.
We care for our society and understand the importance of building happy communities, which will lead to a safe and healthy environment for generations to come. We share our success with the underprivileged through our associations with various non-profit organizations.
We care for our people and believe that employees are the pillars of a successful business partnership. We celebrate diversity and believe that each individual is unique. We encourage creative and empowered decision making with each one of them to discover their true potential.
In a world battling environmental degradation, sustainability is a key driver and differentiator at Cascade Enterprises.
As a step towards promoting sustainable fashion, we provide our customers' with environment friendly, sustainable fabrics and recycled qualities. We can also offer organic dyeing, printing and washing for environmentally friendly design concepts.
We understand our responsibility towards the environment. The need to adopt environment friendly manufacturing processes and products, that adhere to global accepted standards of sustainable business.
We work with medium to large-scale factories that are GOTS or LEEDS certified, compliant through BSCI or SA 8000.
We dedicate ourselves to ensuring that our clients are successful.
Building on this philosophy, the Cascade team has always been driven with the idea of conducting, responsible and ethical practices in every aspect of its business. It is why we are proud to offer such premium services to our customers.
Even after being operational for so long, our vision for the future still remains the same. To grow, work sustainably and be the most cost effective, industry leading sourcing company globally.
Passionate, out-of-the-box and a doer, if these words encapsulate, please check opportunities available with us.Join us in an inspiring, fast-paced and exciting environment where you get equal opportunities to learn and grow.
CASCADE ENTERPRISES
B-19, Ground Floor,
Sector – 59, Noida 201309,
(National Capital Region)
Uttar Pradesh, India
info@cascadenterprises.com
+91 120-402 5300-310
What products does Cascade sell? In which merchandise categories are Cascade active?
Cascade does itself, not manufacture or sell any products. We are a pure service company providing value-added, global-sourcing services for a broad range of merchandise classifications. Our services embrace all elements of global supply-chain management, ranging from product development and price negotiation to logistics management, quality assurance, environmental and social accountability.
Apparel constitutes half of our business. The other half is comprised of home textiles, fabric and fashion accessories
Where does Cascade operate?
Cascade's network includes 3 offices and 7 work fronts quality-assurance stations across India.
How may we get started with Cascade?
We invite you to contact us in writing, enclosing an introduction to your company's sourcing requirements, along with details of specific merchandise categories. We will respond to all enquiries and look forward to exploring areas of mutual cooperation with prospective clients.
Does Cascade Operate on a transactional basis?
We do not operate as a trading company or manufacturer. Rather, we serve only our client. Cascade maintains long-term strategic partnerships with clients with whom we enter into long-term contractual agreements. We do not handle one-off orders.
What are Cascade's terms of business?
Cascade represents only the interests of and only receives compensation from our clients. We charge our clients a commission based on the FOB value of the merchandise shipped, with mutually agreed commission minimums.
What are career opportunities with Cascade?
Cascade is a rapidly growing organization with job opportunities in a variety of fields including merchandising, quality assurance, logistics, transportation and administration. For more information, please refer to the Career & Contact section on our website.